Halloween brings a ton of fun filled events for your little ones at Paradigm! Here is what is happening at both Canton childcare and Waterford childcare locations:
Waterford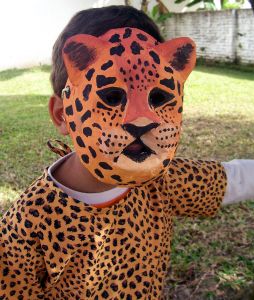 Kids will be dressing up in their costumes and having a Halloween parade through the building.  It's adorable! Mobile Toddlers are going to be having a Monster Mash.  This is a dance party they do for their party.  Our Infants will be dressing up for pictures and doing a footprint Halloween art project.  Our Preschools are having a Halloween party also.  They will be in full costume while they listen to Halloween hits and play Halloween BINGO.  They will also be decorating cookies and doing a special coloring activity.
There will be sign up sheets out soon for parents to sign up for Halloween treats for the kids to pass out for their parties.  We ask that all treats are peanut free.
Canton
For Halloween at the Canton location we are having our class Halloween parties on the 31st. The 3 and 4 year old preschoolers will be doing their parties together. They will be making a trail mix snack (parents are asked to bring something in, sign up sheet will be available in the lobby). They are also going to be having pizza for lunch. The party will be from 9:00-11:30. The party will include games, coloring, making cookies, putting together the trail mix, spooky stories, prizes, and Halloween music.
Kids that arrive before 8:45 on that day should bring their costume in with them and the teachers will help put it on them. Anyone after 9:00 may come in with their costume on.
Reminder for all parents:
Winter is right around the corner.  Please check and update your child's extra clothes to make sure they are season appropriate and still fit.  Paradigm does its very best to remain open during bad weather in the winter and welcomes previous students when public schools are closed for snow days and Mom and Dad still have to go to work.