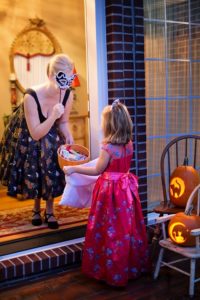 It's that kind of year! Halloween is just around the corner! It's time to take the kids out trick-or-treating and receive lots of candy. But many people don't remember to be safe? Here are some safety tips for Halloween.
Safety Tips For Halloween
Halloween is a dangerous night. Lots of people are out and about in the dark, you are surrounded by strangers, and many people forget general safety rules. However, there are a few rules that we should always remember.
Only cross the road at street corners and crosswalks. Drivers, especially on Halloween, can be reckless. It is best to stay safe and cross the street in designated areas.

Pay attention and do not use your electronics. You don't want to get hurt or lost because you are spending too much time on your phone instead of in the moment. Pay attention to your surroundings, kids, and other people around you.

Check the candy your child receives. It is better to be safe than sorry when receiving things from strangers. Make sure that your child is eating safe candy from a sealed wrapper.
Extra Fun!
Are you looking for some extra fun this Halloween? Visit some local trunk-or-treat events!
Trunk or Treat at FBC is taking place at the Faith Baptist Church in Canton, MI on Friday, October 25th from 6 to 8 PM. Kids in or below the sixth grade can go and get some extra candy from the decorated trunks!
Connection (Indoor) Trunk or Treat is taking place at the Connection Church on Sheldon Road in Canton, MI on Sunday, October 27th from 5 to 7 PM. You can visit to view inflatables, food, games, and more indoors! Just RSVP and bring your costume!
Waterford's Trunk or Treat is taking place on Friday, October 25th from 6 to 7 PM on Williams Lake Road in Waterford Township, MI. Go have some fun getting candy from families and local businesses with your family and friends! Just RSVP and come ready to have some fun!
We hope you and your kids have fun this Halloween and get a lot of candy! Also, contact us if you have any questions or inquiries. So, find out more about our daycare and curriculum!