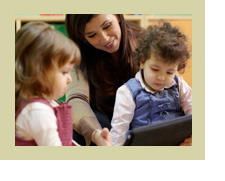 We have incorporated several different means of communication between school and parents at Paradigm to support the many different lifestyles and needs we see from family to family.  Bridging the gap between home and school is helpful to parents, teachers, and administrators when tailoring care to the many different personalities, needs, and abilities of the children in our care.
Parents use the sign-in/out computer in the Lobby twice a day when dropping off and picking up their child.  This is a sure-fire way for the Directors to inform parents of important information and reminders.  We keep paper by the sign-in/out computer for parents to jot us notes when they have special instructions such as, "Aunt Lucy Ball will be picking Johnny up today".  Those handwritten notes can be turned into the office or handed to a Teacher.
Directors can be reached by email.  If a parent needs to inform us of a vacation or has a non-urgent question emailing us is a good option. Giving us a call is always great too.  We love to hear from parents and we are glad to pass calls and information on to teachers during the day.
Paradigm sends out a monthly newsletter through text.  This is another way we keep you aware of fun things that are going on at school.  We inform parents of our monthly theme and communicate types of learning that are taking place as well as give you hot topics and tips about things that come up in staff meetings that we think would be good to pass on to you.
Facebook and Instagram give us the opportunity to share pictures of the kids doing fun things!
Remind – Text Alert Program
Paradigm uses a text alert program called Remind.  We send outclass and building relevant information this way as well as 1:1 correspondence between the parents and the Directors. This is the perfect way for you to communicate an absence with the office.  We ask parents to store this number in their phone so they can text us during business hours to inform us of an illness or if your child will be coming in later then usual that day.  We use this text alert program to send you links to other important information and to pass information such as Community Family Events or information about class parties.  If you are wondering how your child's day is going please give us a call. We love to be able to give you this information over the phone.
All of the children at Paradigm have their own cubby.  The Directors and Teachers pass various written communication to parents using their cubbies like a mailbox.  If your child needed to be changed during the day we will place a note in your cubbie explaining why your child has a change of clothes on just in case you do not see your Lead Teacher at pick up time.  A letter will be placed in your child's cubbie if something in his/her file needs updating such as immunization records or a health appraisal and often a text message is sent out to remind you a week prior to its due date.  If your little one has an incident and gets a bump or boo-boo 🙁 we will fill out an Accident Report that gets placed in your child's cubby.  Depending on the incident we might also call you.  Occasionally a child has an Individualized Plan in place to support them in overcoming a reoccurring challenging behavior.  An Individualized Plan helps support a child in successfully monitoring their behavior and also serves as a link from school to home by communicating to parents in more detail about their child's behavior daily.
Daily Sheets
The Teachers at Paradigm fill out Daily Sheets for children from our Infant Class through age 2.5. The Daily Sheets communicate diaper changes, potty times, meal information and other information your child's teachers want you to know about that day.  Preschool children receive a report card twice a year.
Inside our Lobby we have a Bulletin Board that displays pictures and names of all our Teachers. Adjacent to this we have a series of Binders full of information for parents. There is a Teacher Biography binder that houses information about all of our Teachers. This helps parents learn about their child's teachers education, background, experience, and interests. There is also a Lesson Plan binder that has each classroom daily Lesson Plans for Parents to view. Our ASQ binder provides parents with information about the free Ages and Stages Developmental Screening we provide to all families as a tool to identify if their child could benefit from an early intervention program prior to Kindergarten.
Lastly, we are super fortunate to have 2 or more Directors present in the building daily as well as morning and afternoon Managers!  The office is typically opened from 7:30-5:30 or 6:00 daily. Please stop in!  Face to face communication is always our favorite but we know you are busy and need to get to work or want to get home but we love having the opportunity to chat with you!