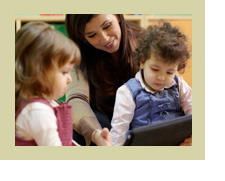 Open communication between staff, parents, and children is very important to us. Also, we understand that parents are working and not always available to conference face to face during the day so we offer a variety of ways to keep the line of communication open such as daily reports based on age or need, text alerts, messages on our sign in/out computer in the lobby, email, phone conversations or face to face chats at drop off and pick up.
We truly believe that the only way to support a child who may be struggling is through collaboration with our teaching staff and parents. in addition, we realize the importance of family and it is our desire to create a "School" family that forms lasting and meaningful relationships.  We serve families, not just children!
Paradigm has an open door policy for parent communication
We love it when parents visit their child's class!  You as a parent are able to visit or volunteer at any time.  (Parents who regularly volunteer at Paradigm must go through 2 extensive back-ground checks.) Please contact us today if you have any questions for Paradigm Care and Enrichment Center.