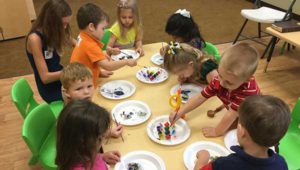 Searching for affordable child care in Waterford, MI can be trying. Finding a daycare center that fits your budget, as well as provides superior support and education for your child is a must.
The love a parent has for their child will not allow them to leave their child with just anyone. Even the first time you leave them with a person you love and trust can be gut-wrenching. It's a natural parent-child bond, that we understand and want to help ease you through. That is why Paradigm strives to provide the best learning environment for our children at an affordable price!
Infant Care
That gut-wrenching feeling seems to be worse when it comes to infants. After all, infants are small and still early in development. The idea of dropping your infant at daycare is hard. However, infants gain amazing benefits in a daycare setting. Arguably, these small babies learn the most compared to any other age. After all, they are learning about senses, figuring out their bodies, and learning how to communicate. As a result, infants need a stimulating environment that can help their growth.
A daycare allows teachers to encourage infants in their developmental milestones. This includes talking with infants and giving them objects that they can touch and feel. In addition, teachers will tell stories, sing songs, and provide sensory activities to enhance their learning and cognitive growth. Most of all, infants get to interact with peers that are their age.
3 – 4-Year-Old Preschool-Aged Children
Just like infants, 3–4-year-old preschoolers soak up information like sponges. Instead of sensory milestones and learning to talk, preschoolers are learning to master skills that are fundamental in everyday life. Social skills, reading, and math are just the base of what preschoolers are beginning to explore. You can expect your child to be able to write their name during this time. In addition, they are getting an advantage from learning at an earlier age. Some of these benefits include:
Achieve higher scores in vocabulary
Have better reading and math skills
Improved social skills
Give your child an early advantage by enrolling them at Paradigm Child Care &  Enrichment Center. With early 3 and 4-year-old learning, you give your child the advantage they need to succeed in school. Our facilities are highly maintained, clean, and safe for your child to grow, and develop friendships with other children.
Enroll in Affordable Child Care at Paradigm
Located in Waterford, Michigan, Paradigm Child Care & Enrichment Center provides excellent infant daycare, toddler care, preschool services, and enrichment programs for children. We will help guide your child through the learning process. During this young age, ensuring that they receive the care and attention that they need.
One thing in particular that we pride ourselves in is our educational-based philosophy. What does this mean? Well, other daycare centers in Michigan are just that, a daycare. You drop your child off, they run, play, socialize, and may even have a book read to them.  At Paradigm Child Care we incorporate learning into every activity that your child participates in, and they may not even know they are learning! From arts and crafts, growing seeds, music, reading, to learning how to drink out of a regular cup, we want to teach your child everything they can learn in a fun and friendly environment, while at the same time providing affordable child care in Michigan.
Our facility accepts FIA assistance for those who are eligible, every child deserves the same opportunity to learn and grow regardless of a family's income. Also, we will do our best to help your child become a member of the Paradigm family!
Finally, for more information or to enroll your child in our Waterford or Canton location, contact us and we will guide you every step of the way!