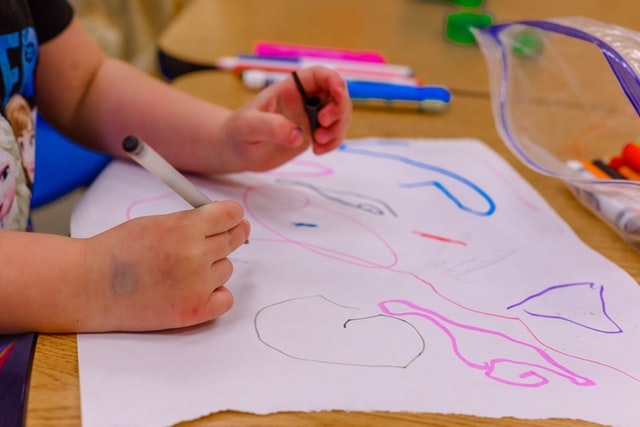 It is time for preschool registration in Commerce, Canton, and Waterford! With the beginning of the New Year, daycares are preparing for the upcoming registration period. There are many benefits to enrolling your child in preschool. Furthermore, applying for early registration will give you an advantage in the future.
Benefits of Enrolling in Preschool
For children, preschool provides a variety of benefits. Preschool provides an opportunity for growth. Preschool is often is the first experience that children have when it comes to a school structure. It allows for a child to interact with teachers and groups of peers. This promotes social and emotional development through interactions with other children. Furthermore, children are able to develop their language and cognitive skills. Through each interaction, a child is learning how to express themselves, how to solve problems, and communicate their needs.
Furthermore, preschool helps young children prepare for kindergarten. Children are able to adjust and adapt to kindergarten faster in comparison to others. In addition, children are able to develop decision-making skills that will benefit them as they continue their academic careers.
If you plan on enrolling your child in a preschool or daycare, it is important to register early.
Advantages of Early Preschool Registration
When enrolling your child into preschool, early registration can be a major benefit. While the biggest benefit is that you are put on a higher priority, it also allows you to prepare for when your child enrolls. Early registration allows you to assess the staff and educational philosophy of the preschool you are enrolling in. After all, you need to be comfortable with the administration and the staff caring for your child.
Communication is also a key aspect to look into as well. How does the school update you about your child's progress? What happens if there are any issues? Will you get updates on your child's activities at pick-up? Knowing the answers can give you a better understanding of their communication style. Furthermore, you should be given a school calendar to tell you when school is closed and policies about school cancellations. Active communication is key and if it is not there then you should reconsider.
Each preschool has different rules and standards when it comes to what is provided and discipline. Understanding these policies is also important. How your child is cared for and disciplined can be a major deciding factor in whether you chose that preschool or not.
Early registration allows you to examine all of these aspects before deciding on a preschool. However, what preschool should you choose?
Paradigm Childcare
There are a variety of daycares to do preschool registration with. However, none of them can compare to the staff at Paradigm Care & Enrichment Center. At Paradigm, we devote ourselves to creating lifelong learners. Each one of our classrooms is made to meet the needs and develop the skills of specific age groups. Our dedicated staff is ready to help your child on their educational journey at one of our two locations. Whether you are in Commerce, Canton, or Waterford, Paradigm has its doors open to you. So, register your child today.