Armed with Elementary Education Teaching degrees from Western Michigan University, Angela and Michele joined the South Lyon Community Schools team of exceptional elementary school teachers in the 90's. They gained years of experience as Kindergarten and First Grade teachers, all while working on making their dream of opening a quality preschool a reality.  Angela and Michele both served on numerous committees during their time with South Lyon Community Schools such as curriculum writing committees, school improvement committees, hiring committees.
They also received specialized training in many areas during their time as Teachers. As early education teachers, they noticed the need for higher quality preschool and daycare. Children just weren't coming to Kindergarten prepared to handle the curriculum that was being taught. Since both sisters gained a lot of experience while participating in curriculum development committees for South Lyon Community Schools they were very familiar with the direction in which early education was heading.
With the knowledge they gained in both teaching, school improvement, and curriculum development, they began to put their dream into action and Paradigm Care & Enrichment Center was born. Nurturing children 6 weeks to 5 years with the end result being a child that is well prepared to enter Kindergarten academically, socially, and emotionally is their driving force!  Ms. Angela and Ms. Michele are both proud Moms.  Ms. Angela's son and Ms. Michele's two daughters all attended Paradigm prior to entering kindergarten.  All three were well prepared when leaving Paradigm and have become very successful students up to and through college.
Ms. Miranda Co-Director at the Canton Paradigm Child Care Center
Ms. Miranda joined the Paradigm family in 2007.  She enrolled her infant son Elyan who attended Paradigm until he left for kindergarten.  She worked with all age groups including infants, toddlers, preschoolers, and our school-age students who attend in the summer.  Ms. Miranda enjoys each age group and loves to form lasting bonds with the children.  She finds it so rewarding to watch them grow throughout their time at Paradigm.  When joining the Paradigm Family Ms. Miranda was attending Oakland Community College to pursue a career in the medical field. After having her second son Valentino in 2010, she decided that Paradigm was where she was meant to be.
At that point, she changed her degree study from the medical field to Early Childhood Education. Ms. Miranda's outstanding leadership of staff and students was recognized by Ms. Angela and Ms. Michele who began giving her more administrative responsibilities. In 2014 Paradigm opened its second location in Canton where Ms. Miranda became the Assistant Director. Ms. Miranda continued her course work in education and administration and was promoted to Co-Director. She has been recognized for her expertise to be in the development and implementation of curriculum as well as general management of programs.
During her time as Co-Director at the Canton center, she has shown great leadership, teamwork, and passion. Because of this Paradigm has blossomed into a wonderful place for families. Ms. Miranda takes pride in making her Paradigm teachers and families feel at home while in the center. Ms. Miranda loves to create new activities for the children, create parent involvement opportunities, and most importantly is always working towards implementing her many ideas to keep improving our Paradigm home away from home. She grew up in Higgins Lake where she still has family that she loves to visit on the weekends.
She has been married to her husband Carlos for 7 years and they currently live in Waterford. Although it is a bit of a drive, she loves being at the Canton Center. Her grandma, MeMe who also lives in Canton, loves to come to visit the kids!  They look forward to her visits and get excited to see MeMe because she reads and plays games with the children.
Ms. Natalie Co-Director at The Waterford Paradigm Child Care Center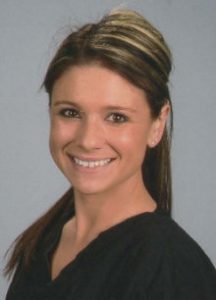 Natalie joined Paradigm's family in April of 2007. She grew up in Novi, MI. Shortly after graduating high school, she moved to Waterford. Ms. Natalie completed coursework in Early Childhood Education at Oakland Community College, where she earned her Associate Degree. She went on to pursue a Bachelor's Degree in Psychology from Central Michigan University. Recently, she decided to work toward earning another degree and is pursuing a Bachelor's Degree in Early Childhood Administration.
Ms. Natalie is a Co-Director at the Waterford Center.  Her areas of expertise are vast however she focuses on recruiting and continually training highly qualified staff. On August 5, 2007, she welcomed her oldest daughter, Evelynne. Evelynne attended Paradigm and went through the program from the time she was six weeks old until she went to Kindergarten. More than ten years later on July 30th, 2019, Ms. Natalie welcomed her second daughter, Dayanna, who also began attending Paradigm when she was 6 weeks old. Ms. Natalie also has two stepsons Julian and Zaiden.
Ms. Meghan Co-Director at the Canton Center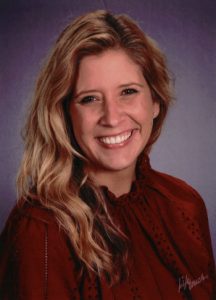 Ms. Meghan grew up in the Farmington Hills area and after graduating from Central Michigan University with her Bachelor's Degree, moved to California.  Ms. Meghan lived in northern California for a year and moved to Dallas, Texas next where she lived for six years.  She decided it was time to make the move back to Michigan to be closer to family and did so in 2012.  Ms. Meghan always knew she wanted to work with children and began her career at Paradigm in August of 2014.
Ms. Meghan is a Co-Director at the Canton Center.  A few of her responsibilities include recruitment, retention, and training of staff.  You will see her engaging with families and taking a genuine interest in the well-being of the children at Paradigm.