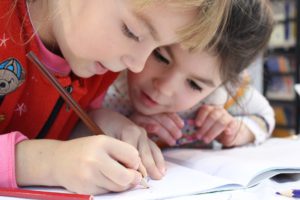 Once your child has moved to the primary school, know that we are here if needed. Our school age program is perfect for older students who need a place to be while regular school isn't in a session that will continue to help in their growth and development. This program is open to any school-aged student until age 12 and can be done on a regular or sporadic basis.
We provide a safe and educational structured environment that your kindergarten through 5th-grade child can utilize any time you may need it. We offer short and long-term enrollment for students. This can be ideal in cases if your child's school having a snow day, mid-winter break, conferences, or if you need a place for your child during the summer break.
Summer Program For School aged child care 5-12-Year-Olds
Our summer school (K – 5) program is perfect for when you need a place for your child in the summer that encourages learning and foster's their development. We have age-appropriate lesson plans we cater to each age group to help when school isn't in session. In addition, here at Paradigm we make sure that they are still learning and developing even if they're not in school. Also, we offer a full day of educating and activities for you child enrollment as well as temporary as well.
We are always willing to have our young kids come back into the Paradigm family. Simply give us a call as soon as you think your school-aged child will need our program. Please contact your Paradigm location for details about our school-aged program as each location is different. Paradigm Care & Enrichment Center provides a variety of programs for parents, we strive to provide the best possible care around.