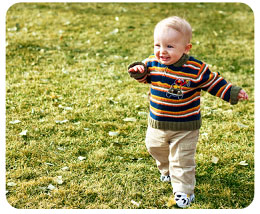 From Infant Mobile Toddler
Congratulations! This is such an exciting time for your family! Everything changes when your baby starts to walk! We are so proud of your little one and excited to say that it is time to transition…

---
Paradigm's infants are greeted daily by the same familiar faces and hugs when parents drop them off.
Our phenomenal teachers understand that learning begins at birth and encourage that learning by giving your baby a variety of objects to look at, stories, songs and music to listen to, and sensory items to touch and snuggles to feel!
Whether reading to our infants, playing peek-a-boo, or snuggling with a song our infants are exposed to the sounds of our language constantly which is so important to their cognitive growth.
Babies have their own crib and the attention of the same staff members daily with a 4:1 ratio and low staff turn over.  Our sleeping babies are in a quiet, darker room that is separate from our play and eating area.  This allows for a more peaceful rest during naptime.
Parents receive a written report daily including all meals, diaper changes, and sleep schedules.  Older siblings are allowed to visit babies during the day and Mom's that can leave work are more than welcome to come and nurse in private in a rocking chair.
Check out more FAQ and Answers for our Infant Care Program.
---
Infant Daycare Canton or Waterford
At Paradigm Care and Enrrichment Center, we strive to provide the best infant daycare in the Waterford and Canton area. Our well trained staff provides the best nuturing and learning environment for your infant. In addition, our staff usues sensory items such as songs and interactive games to help imrove your infant's development.
We have infants from Waterford, West Bloomfield, Commerce Township, Canton, and Livonia all enrolled in our daycare. Please contact us today at 248-363-9800 for Waterford or 734-354-9600 for Canton. Schedule a visit today and see why Paradigm is the best choice for infant daycare in the area.