There are many pre-k schools near the Plymouth and Northville areas that are geared towards helping your four-year-old child learn. However, here at Paradigm, we invest our time in your children. Our preschool for 4-year-olds is designed to address readiness skills in a unique, hands-on way. In addition to that, we also try to make sure that our four-year-old daycare students are taught effectively, by using an activity-based approach to help incorporate a variety of learning styles. The teachers in our four-year-old preschool work closely with your children to make sure that they are engaged, grounded, and prepared for kindergarten.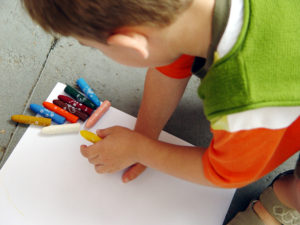 Preparing Your 4-Year-Old with Preschool
Paradigm is one of the most well-known pre-k schools within the Plymouth-Canton school district. We are fully aware that four-year-olds learn best when they are involved in playful interactions. So, we have designed our four-year-old preschoolers' classroom to have multiple learning stations to help them develop efficiently. Three-year-old preschool was all about learning letters.  Once your child enters our 4-year-old preschool, we kick off the school year with a personal letter "sound" book, where they learn and practice hard and soft letter sounds.
Both reading and writing are also very important to us, so we encourage them to read and write every day. Our four-year-old daycare students are also introduced to colors and become master color mixers. Doing this while learning about primary and secondary colors. Finally, learning about good hygiene, healthy exercise, and the food pyramid are covered in our four-year-old preschool classroom.
Looking For Pre-K Schools Near Plymouth?
If you are currently looking for a preschool for 4-year-olds near Plymouth, Paradigm Care and Enrichment Center is the best one. Whether you are considering enrolling your child into a charter school (k-12) or starting kindergarten in a public school, we will help prepare your four-year-old child to the best ability. Please stop by our Canton location or contact us today to see what we're all about.