Choosing a daycare is a very important decision that a parent will make in their infant's life. We understand the number of trust parents place on us as your childcare provider and work with parents to provide the same care as you do at home. Please check out these Infant Day Care FAQs and answers and contact us for any additional questions you may have for your infant.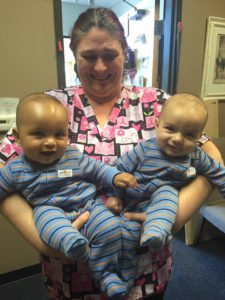 Infant Care Program Frequently Asked Questions and Answers
What is the ratio for caregivers and infants?


We have a 4:1 caregiver to infant ratio.

If I want to come into the center and breastfeed, do you have a place where I am able to do that privately?
Mom's are able to come in and nurse any time in our Infant Room.
Are you comfortable with breast-milk for feedings when I cannot come in?
Yes!
Do you have a refrigerator for storing bottles?
We store bottles in a refrigerator in the Infant Room.
How do you warm the bottles?
In a CrockPot with warm water.
Do you feed babies on-demand or on a schedule?
Both. If your baby is on a schedule, we will follow it. Also, if you prefer your baby is fed on demand, we will accommodate that. If you would like us to help get your little one on a schedule we are able to help you with that.
Where do infants sleep?
Infants have their own crib in a quiet darker room that is separate from the play and eating areas to allow for more peaceful sleep without distractions.
Do you have a nap schedule for infants?
Yes. Our infant care program does follow a nap schedule that is unique to that child's needs.
Are babies placed on their backs to sleep and do you follow other safe sleeping practices to reduce the risk of SIDS?
Our staff is trained in safe sleep practices upon hire. All children are placed in a crib on their backs to sleep.
Are the caregivers certified in infant CPR?
Our Staff is certified in CPR when they are hired and get re-certified semi-annually.
Do babies get the outdoor time?
Some babies go for stroller walks when the weather and schedule permits.
Does the center supply diapers, or is that up to the parent?
Parents supply; diapers, wipes, and diaper cream.
Do I need to bring any other supplies for my infant?
Parents supply; crib sheets, ready to feed bottles and baby food until your child is on table food and ready to eat school lunches.
Is there a daily report or another way you inform parents of what children did during the day (naps, bottles, diaper changes, etc.)?
Parents receive a written infant care daily report that includes; meals, diaper changes, and naps.
What does a typical daily routine for infants look like?
Some of this depends on your baby and their unique schedule. Lesson Plans are posted for parents to view on a monthly basis.
What do you expect from me as a parent?
We feel so honored that you have trusted us to care for your precious infant. In addition, it is very helpful to us if you communicate openly with us about your child's needs and make yourself available during the day is we call with any updates or questions. Also, please let us know of any schedule changes as soon as possible.
Infant Day Care Questions
Paradigm Care and Enrichment Center focus on Education Infant Childcare at both our Canton and Waterford, MI locations. We invite you to visit our infant child care program nearest you to explore our classrooms and meet our everyday welcoming staff that will be helping your infant grow and learn.