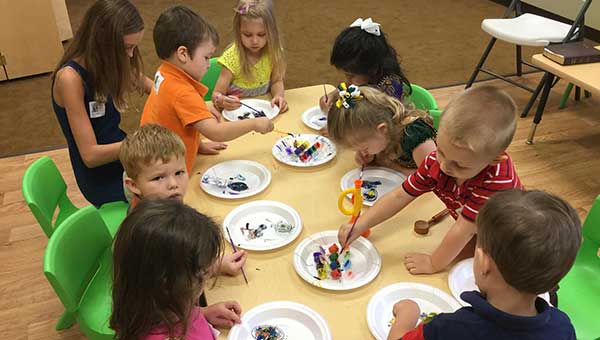 If you live in Commerce Township and are searching for "best preschools near me," we hope you make Paradigm Care & Enrichment Center your first choice. Paradigm is located very close to Commerce Twp., with our Waterford location being right near the border of both Commerce and White Lake Township.  Both of our locations offer the caring and teaching, your child will enjoy and need.  Our facilities offer a great environment for your child to learn.
Preschools In My Area
Paradigm has two great locations geographically situated. The Waterford is located at 1401 Malcolm, Waterford MI, 48327. This location is easily accessible from any area within the four surrounding townships including West Bloomfield which is just south-east of us.  Paradigm has a conducive learning environment your child needs and if you live in Lake Sherwood, for example, it is only 15 minutes via E. Commerce street.   Our learning center is the perfect preschool for 3-year-olds and preschool for 4-year-olds. Of course, we provide exceptional care for Toddlers and infants as well.
For the 3-year-old preschoolers, they start off the year with a weekly letter "name" focus and a personal alphabet book. Your child will have the same teacher and group of classmates but will be rotating to different areas of the center as they learn.  The 4-year-old preschoolers start the year with a personal letter "sound" book. They will also get to explore healthy living through exercise, good hygiene and learning about the food pyramid. To learn more about the curriculum click here.
When you are looking to find preschools in your area, you should definitely consider Paradigm. Parents and students alike, love the learning environment and the caring staff. While learning your child will have access to the Music Room, Art Room, Library, Dramatic Play Room, Math and Science room and a Large Motor Room each day. Near Commerce Twp, we truly believe that there are not any better preschools than Paradigm in Waterford. From our reviews you will find that former and current parents agree; Paradigm Care & Enrichment Center is one of the best preschools in and around White Lake, Waterford, West Bloomfield and Commerce Townships.
For more information on Paradigm Care & Enrichment Center and our preschool programs please contact us today or give us a call at 248.363.9800.