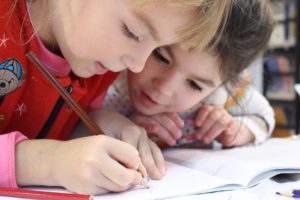 When it comes to finding professional childcare in Canton, Michigan for your child, ensuring that you find a daycare center that provides an educational environment is important. Also, at Paradigm Childcare of Canton, Michigan we incorporate our Edu-care philosophy into our various age-based programs rather than just "babysitting" your children.
What is Edu-Care Philosophy?
Our Edu-Care Philosophy at Paradigm Childcare of Canton, MI incorporates developmental hands-on activities. Also, they include educational opportunities into the safe and nurturing setting of or daycare center. In addition, children will participate in a variety of age-appropriate activities focusing on areas such as math, music, science, art, and motor skills. There are so many great ways to make learning fun for children!
The Best Professional Childcare in Canton, Michigan
Along with our outstanding Edu-Care Philosophy at Paradigm, we also offer enrichment programs for children looking for extra-curricular activities. Furthermore, our enrichment programs in Canton include dance, gymnastics, or soccer for children ages 2-5. Participating in enrichment programs at Paradigm allows your child or toddler to grasp knowledge. Also, it includes teamwork or team-building opportunities while staying active.
For more information on our Edu-Care Philosophy or enrichment programs available to your child, please contact us! In addition to Canton, we also have a great location in Waterford as well. Finally, give us a call at 248-363-9800 for Waterford or 734-354-9600 for Canton. We strive to provide the best learning and enrichment environment for your children.