Waterford and Canton Preschool Trike-A-Thon For St. Jude's
It's that time again this year and the preschoolers at Paradigm Care and Enrichment center are all so excited. Our annual Preschool Trike-A-Thon will take place next week. Three and four year old preschoolers will be turning in donations on May 14th-15th , 2015 at the Paradigm Care and Enrichment center while bringing their bikes and helmets to school to ride in the parking lot.
Our Trike-A-Thon has been very successful over the years. This is Paradigm Care and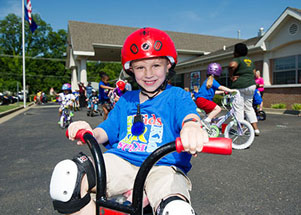 Enrichment Center's 10th year participating in St. Jude Children's Research Hospital Trike-A-Thon. Over the years, we have raised over $17,500. We raise money every year  to help make sure that families will not have to pay for St. Jude services. Paradigm Care and Enrichment Center loves working with St. Jude because they share all of their research with the entire medical community. Our donation helps children all over the world.
We want to make this year our biggest year ever! In order to do this, we need everyone to participate. For more information, contact us!