When a child is 4 years old, it is very important to implement beginner curriculum activities into their everyday life. For some young children, the transition to Kindergarten can be a challenge. Introducing them to educational activities in preschool can help drastically when it is time for their first day of Kindergarten.
So, what types of curriculum are good for a 4 year old? There are many different, fun, yet educational activities that can help set the path for your child's educational journey. At Paradigm Childcare and Enrichment, we take pride in offering a variety of curriculums to our preschool children or Pre-k 4 year olds.
Some of our curriculum for 4 year old children include:
Life Skills- There are important things that children need to learn for everyday life. We will help teach your child how to tie their shoes, teach them the importance of exercise, and inform them about the importance of good hygiene.
Reading- Whether your 4 year old preschooler knows how to read, or is just beginning, we will work with your child accordingly.
Colors- Children are introduced to the variety of colors. Primary, secondary, as well as how to mix them for tints and shades.
Writing- Going hand in hand with reading, writing is very important. Teaching a 4 year old preschooler how to write letters or short words will help them become a great reader!
There is so much more in a curriculum for 4 year old preschoolers. It is important to make sure that you incorporate the various lessons in a fun way. If a child enjoys what it is he or she is learning, then they will process and retain the information better. It is our goal to prepare your pre-k or preschooler for Kindergarten!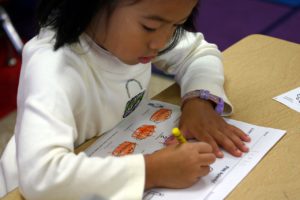 Ensuring that your child is socially and educationally ready for Kindergarten in Michigan is very important. We offer curriculum for 4 year old preschoolers or pre-k for 4 year olds in Canton or Waterford, MI.
If you are in need of more information regarding curriculum for 4 year olds, contact us today. Or, you can visit us on Pinterest!