Red Nose Day is a very special day for people across the nation. It's an event that is celebrated at school, work, home, etc. People come together (with their red noses) for Red Nose Day to have fun, share laughs, and raise money for those who are less fortunate and are in need all across Africa and the United States.
Red Nose Day was first held on February 5th, 1988 and to this day, it is known as the National Day of Comedy. This year, this event will take place on Thursday, May 26th at 9/8c. This two hour special will be hosted on NBC, featuring some of the biggest celebrities. Each performance will range from comedy and film to TV and music.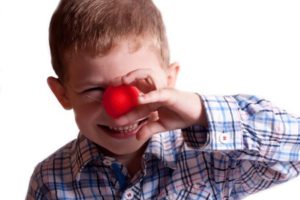 Help Paradigm Enrichment Center support Red Nose Day
The Red Nose Day campaign will be dedicated to helping children through fundraising. Each donation will be beneficial to the children and young kids who live in unstable conditions.
Some examples of the items your helpful donations can provide for those in poverty:
·         $1-A meal for a child living in a homeless shelter
·         $4-An anti-malarial net to protect a mother and her baby
·         $5-Antibiotics to treat a child with pneumonia
·         $5-Medical supplies for a doctor's visit on a mobile clinic
·         $7-Provides books to help sharpen their reading abilities during the summer
·         $15-Could keep a child safe, sheltered and off the street for a week
·         $35-An eye exam and glasses for a child in need
It's truly amazing how such a small donation can change and impact someone's life forever. Just from participating in Red Nose Day transforms the lives of millions of people. Every single dollar helps!
Paradigm Care and Enrichment Center will be taking part in Red Nose Day this year.
Join the nation and get your Red Nose at Walgreen's before it's too late!