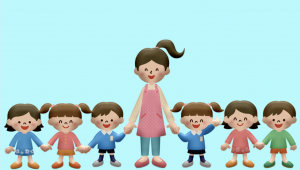 There aren't many jobs more fulfilling than those working with children. When you work with kids you can watch them grow, develop their own personalities, and see the world through their eyes. As the kids get older, you can see how you have influenced them and impacted their daycare experiences. Here are just a few of the benefits associated with working with children. 
Benefits of Working with Kids
-You can watch the kids grow as people
One of the best parts of working with children is seeing them grow as people. As kids get older, their personalities begin to develop. Their character traits start to show and they start becoming more individualized. And the best part of all is seeing how you have made a positive impact in their learning or fun daycare experience.
-Always learning new ways to help children excel
While working with kids, you are always learning. Whether it be the interests of each child or the best ways to explain new learning concepts, there is always something you can learn as a child care provider. Then, you can apply this knowledge to other children in the daycare and people in your home life as well.
-Better patience with everyone
Children can be tough to win over and may require a bit of finesse. They can be incredibly hard to please and good patience is necessary. If you can work with young children, you can work with anyone.
-Growth in yourself
Working with children isn't just about seeing them grow up, it's about seeing growth in yourself as well. Much like having your own children, the children you work with look up to and depend on you. This causes you to be the best version of yourself.
-It makes you see the world differently
Children view the world through an innocent and colorful lens. When working with kids, you can see a much simpler world through their eyes. This can give you a whole different outlook on life and many of the problems we overthink day-to-day.
Join the Paradigm Family!
Here at Paradigm, we are looking to hire new child care providers into our family. Whether you are new or experienced with working with children, we are interested in hiring you. We offer employee benefits, great hours, and paid vacation time. If you are interested in joining our team, fill out our application today! Please contact us with any further questions.